Egg Haven Pancakes & Cafe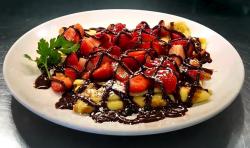 Egg Haven is a relaxed and contemporary pancake house known for serving quality breakfast and lunch items 7 days a week.
The bright and friendly cafe uses only the freshest ingredients to prepare their recipes and only sources their eggs and produce from local premium farms and growers.
Their extensive menu includes fluffy omelets, pancakes, crepes, belgian waffles, fresh salads, sandwiches, wraps, burgers and more.
Egg Haven can also accommodate your catering and banquet needs.
Voted Best Breakfast DeKalb County 2016
Opa Chicago recommends:
• Feta, Spinach & Tomato Omelet
• Ham & Egg Breakfast Panini
• Cinnamon Apple Pancakes
• Bananas Foster French Toast
• Greek Chicken Flatbread
• Chipotle Steak Sandwich
• Door County Salad
• Cowboy Burger
Address:
Egg Haven Pancakes & Cafe