Chicago Fun With a Greek Touch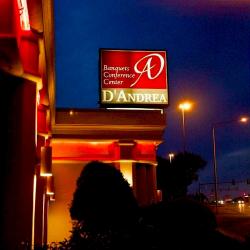 March 2018
Chicago's northwest suburbs experienced huge population growth in the decade of the 90's. In particular, the town of Crystal Lake in McHenry County saw its population increase by 50% from 24,000 people in 1990 to over 38,000 by the year 2000.
Home sales were soaring as Crystal Lake became a desirable community for families and businesses alike. Grocery stores, retail shops, gas stations and restaurants were all meeting the increasing
demands of the growing village that local officials would declare "a good place to live." But despite the robust expansion and growth, banquet halls were few and far between.
In the 1980's, the Hob Nob in Crystal Lake was a top rated restaurant and bar that served lunch and dinner seven days a week. Their lounge area hosted dancing and other fun activities weekly while the Champagne Brunch was a popular feature every Sunday. The Hob Nob could also accommodate private parties for up to 150 people. Eventually, as Crystal Lake would come of age in the 90's, the opportunity presented itself for Hob Nob to expand its banquet reach.
The restaurant would be completely renovated in the summer of 2002 becoming D'Andrea Banquets and Conference Center. The updated facility was actually the product of a vision birthed many years earlier in the minds of Hob Nob's owners. Manager Peter Spentzos says, I've been a resident of Crystal Lake since the 70's and have witnessed firsthand the growth of this wonderful town. I've had the privilege of serving so many guests over the years whose kids are now grown and celebrating momentous events of their own. The idea of devoting all of our focus on banquets was only natural."
Now celebrating 16 years, D'Andrea has hosted countless special events including grand weddings, anniversaries, birthdays, reunions, christenings and a wide array of corporate functions. The friendly and experienced staff, which has been with D'Andrea since 2002, continue to provide personalized service to every customer no matter the event.
The years have brought many familiar faces to D'Andrea including Chicago Blackhawks owner Rocky Wirtz who attended a friend's wedding in 2010. Other prominent guests include area politicians, clergy and various government officials. D'Andrea is also pleased to host Pioneer Center's Annual Book Review Show which has become one of McHenry County's favorite events during the holidays. It is also D'Andrea's most attended event of the year.
And when it comes to weddings, D'Andrea truly shines with exceptional amenities designed to please the heart of every bride. With a variety of menu options, romantic ceremony rooms and a spacious ballroom accommodating up to 600 people, D'Andrea is the perfect venue for beautifully memorable wedding receptions.
One of the more interesting receptions was a Disney theme wedding party complete with fun and glitzy Disney-style accessories. Other weddings over the years have featured a myriad of unique and interesting concepts designed for creative minded newlyweds.
Over the years, guests have especially come to appreciate the affordability of wedding packages that feature D'Andrea's award winning cuisine. D'Andrea's chefs have over 25 years of culinary experience and have been recognized numerous times by The Northwest Herald, Chicago Bride Magazine and Food Industry News.
Today, D'Andrea continues to provide the same first-rate banquet experience the community has learned to expect since 2002. And the town of Crystal Lake endures as a much sought after village in which to raise a family. The website WalletHub has even ranked Crystal Lake in the top 10 of best small cities in America to live and ranked it very high for quality of schools, access to health care, economic strength and recreational options.
D'Andrea also hosts their annual Bridal Show every January offering prospective brides invaluable information as they plan their special day. The show features bridal vendors offering samples of hors d'oeuvres, wedding cakes, pastries and confections. Participants of the bridal show also learn about area photographers, DJ's, florists, bridal gown sources, limo companies and luxurious honeymoon ideas provided by travel agents.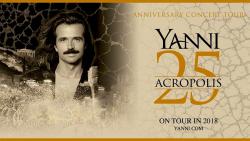 January 2018
As one of the world's leading musical composers, for Yanni, it's always been about the passion. His name has become synonymous with beautifully prepared orchestral music tinged with jazz, classical, and rock influences. His live performances are legendary and feature an impressive array of world class musicians and vocalists. Fans have even declared that Yanni's music goes well beyond entertainment, effecting them at a deep spiritual level.
Yanni began playing the piano at age six in his hometown of Kalamata, Greece. His parents took notice of his enthusiasm for the keyboards and encouraged him to develop his own style at his own pace. Yanni would actually teach himself "musical shorthand," bypassing at a young age conventional musical rotation methods. Even today, Yanni continues to utilize his own personal technique.
Before music became Yanni's primary vision, he won a 50-meter swimming competition at age 14 and considered becoming an Olympic swimmer. He would move to the United States a few years later, settling in Minneapolis where he attended the University of Minnesota as a psychology major.
As Yanni pursued his studies, he would earn money as a dishwasher eventually earning a B.A degree in Psychology. After graduating, Yanni decided to commit the next year of his life exclusively to music. It was during this time that Yanni was his happiest and decided to devote the rest of his life to his childhood passion.
In 1976, Yanni joined the Minneapolis based rock group Chameleon while also working with choreographer Loyce Houlton on creating music for dance works that would be produced by the Minnesota Dance Theater. After 4 years of touring with Chameleon, he moved to California to pursue his gaining interest of composing movie soundtracks.
Yanni would release several albums in the 80's touring with such well known musicians as John Tesh and drummer Charlie Adams. One tour included an amazing performance with the Dallas Symphony Orchestra that was described by a local music critic as "exhilirating, moving and inspiring." The review acknowledged Yanni as a bona fide superstar and helped Yanni gain national recognition.
A few years later, Yanni released "Dare to Dream," his first grammy nominated album that included "Aria," a song that was featured prominently in a British Airways commercial. His next album, "In My Time," followed one year later and was also nominated for a grammy.
But Yanni's landmark achievement occured in 1993 when he performed live at the 2,ooo year old Herodes Atticus Theater at the Acropolis of Athens. So ambitious in scale, it was a concert event his own record company advised against and predicted would fail. So without any financial backing, Yanni would risk $2 million of his own money to make "Live At The Acropolis" a reality. The concert featured Yanni's core band and the 60-piece Royal Philharmonic Orchestra arranged and conducted by the renowned Shahrdad Rohani. The resulting video would become the second best selling music concert video of all time (after Michael Jackson's "Thriller").
Yanni has often said that psychology is actually the catalyst of all his songwriting. The music he creates is a reflection of his soul and a direct result of life experiences, relationships and interactions with other cultures. They are present in almost every creative thought he has and they continue to inspire and entertain everyone who attends a Yanni show.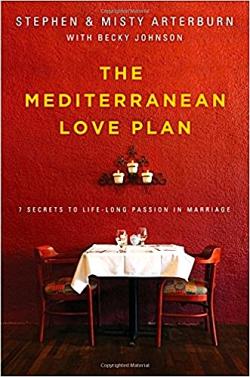 What's the secret of a long, happy marriage? How can couples keep the passion and romance alive for the long haul?
The Mediterranean Love Plan shares the seven secrets of passion from some of the most romantic countries in the world: France, Italy, Greece, Spain and Israel while helping couples enjoy everything their marriage was designed to be.
Authors Stephen and Misty Arterburn provide plenty of research, fascinating stories and personal examples that will help motivate couples to achieve a "grande amour" (great love) in their marriage.
Among the concepts addressed are "triggers to ecstatic experiences" that include the enjoyment of good food, laughter, art, music, nature and rhythmic movement. As couples learn to actively incorporate these and other "triggers" mentioned in the book, intimate soul-satisfying connection can be enjoyed at deeper levels.
The Mediterranean Love Plan also encourages couples to be aware of the fragility of the marital bond. In the real world, even the strongest marriages can unfortunately go off the rails, sometimes rather quickly. Other couples find themselves settling into comfortable routines that end up resembling business relationships where mundane projects that just "need to get done."
In today's fast paced culture, achieving and sustaining the "fairy-tale" can seem impossible. Can two flawed people learn to keep the marriage flame burning hot in the face of work schedules, mortgage payments and everything associated with raising a well balanced family?
Stephen and Misty Arterburn would whole-heartedly answer, yes! If both parties are proactive about making desire a top priority in their relationship, each can certainly experience the fairy-tale marriage that so easily eludes many couples.