Chicago Fun With a Greek Touch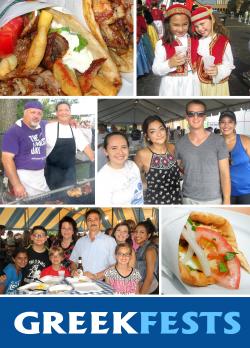 Greek Fest season in Chicago is a great time of the year for fun seekers who want to get a taste of Greek food and culture.
Every weekend throughout the summer, Greek churches around Chicagoland host their own festivals inviting people to "go Greek" and enjoy great food, drinks, live music, dancing and fun for the kids.
Sharing meals around a table is a huge part of the Greek lifestyle and Greek Fests are no exception. Every year, thousands gather at their favorite festivals to indulge in all their favorite dishes including souvlaki, gyros, pastichio, chicken, dolmades, Greek salad and more (menus may vary).
Guests also like to mingle around the bar for beer, wine, soft drinks and friendly socializing. And of course, what would Greek Fest be without dessert stations featuring sweet treats like Baklava, Kourambiedes, Greek Frappe and of course everyone's favorite, Loukoumades (deep fried batter puffs drizzled with cinnamon and honey).
Greek Fests are made possible by the hundreds of faithful volunteers who donate their time and energy to provide a good experience for all who visit. Thanks to their efforts, guests can enjoy everything Greek Fests have to offer - and a chance to make some great summertime memories!
What people usually remember the most about Greek Fests is the warm hospitality and something the Greeks call "filotimo." Mike Sakelaris, chairman of the St. Nectarios Greek Fest in Palatine says, "Filotimo is a Greek term describing love and honor, and it's our goal as a staff to serve every guest with that kind of spirit. We hope every person who visits any Greek Fest around Chicagoland will enjoy themselves and feel right at home."
Father Dean Botsis of St. Haralambos Greek Orthodox Church in Niles would add to that sentiment by saying that Greek Fests actually symbolize something deeper. "These summer weekends where people come to enjoy wonderful food, music, dancing and fellowship is a picture of what God wants for everyone...a place where guests can experience acceptance, joy and love."
So take the time this summer to slow down and smell the souvlaki! Enjoy Greek Fests with family and friends all summer long...and make sure to leave room for the loukoumades...OPA!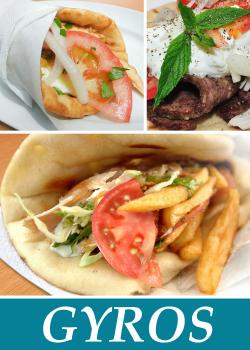 Over the last few decades, Gyros has certainly gained a reputation as one of the more popular Greek food items on menus across Chicagoland.
Gyros are essentially sandwiches made with thinly-sliced beef, lamb or chicken which is then placed in a pita or flatbread. Most gyros are topped with onions and tomatoes and enjoyed with Tzatziki sauce, a white creamy topping made from strained yogurt, cucumbers, salt, pepper, garlic and dill.
With this flavorful mixture served relatively cheap, it's no wonder that Gyros has been a popular choice for hungry Chicagoans for over 50 years.
As the meaty dish is thought to have originated in Greece, the very first Gyros in America was actually served in the Chicagoland area. According to Elk Grove Village based Devanco Foods, the first gyros was reportedly served in 1965 at The Parkview Restaurant in Chicago by owner George Apostolou, also known as "Papa George," the father of today's gyros.
Also prominent in the early days of gyros was Chris Tomaras who opened Kronos Gyros in 1975 and is responsible for developing and marketing "Gyrokones," large uncooked masses of gyro meat. Tomaras also invented the Kronomatic vertical meat broiler which helped standardize mass gyro production thus allowing gyros to spread to restaurants across the country.
Today Kronos is the world's largest manufacturer of Gyros providing enough of the savory meat for 600,000 sandwiches per day.
The secret behind Kronos success? Tomaras told reporters in 2009 that it's all in the ingredients..."we use the best beef and lamb and then run the meat through a four-ton grinder where bread crumbs, oregano and special seasonings are added."
Incidentally, Gyros comes from the Greek word "Geero" which means "turn." And nothing seems to be turning consumer's heads - and taste buds - like those wonderful cones of
meat spinning every day in restaurants across America.
We now turn your attention to our favorite gyros spots across Chicagoland.
Craving Gyros (Lake Zurich)
This cozy little spot in downtown Lake Zurich will surprise you with their famous gyros, vienna hot dogs, italian beef, charcoal broiled angus burgers and more. Very friendly staff is known for their personalized service. Gyros is fresh and hot served with homemade tzatziki sauce! Dining area is clean and comfortable which also includes outdoor patio.
2 E. Main Street, Lake Zurich IL 60047 • (224) 677-5115
Squabs Gyros (Melrose Park)
Bustling restaurant popular for its fresh homestyle cooking and generous portions. Grecian specialties include kabobs, Athenian style chicken, souvlaki, Greek salad and Squab's famous gyros. Other signature items include barbecued ribs, italian beef, broasted chicken, char-broiled burgers and more, including homemade soup prepared every day. Catering also available for your upcoming special event.
2348 Mannheim Road • Melrose Park IL 60164 • (847) 455-5205
Visit the Squabs Gyros website...
Brandy's Gyros (Chicago - Des Plaines - Hanover Park)
Known for their famous gyros, bbq ribs and Athenian chicken, Brandy's uses only fresh ingredients to bring you a wide array of delicious Greek specialties and American favorites. Char-broiled burgers, chicken sandwiches, vienna beef hot dogs, italian beef and tasty mexican choices are just part of an extensive menu that has something for everybody. Four convenient locations to serve you.
6262 N. Harlem Ave, Chicago, IL 60631 • (773) 763-5862
Visit the Brandy's Gyros website...
Dengeos (Skokie)
Friendly and spacious eatery serving up their signature Gyros plus BBQ Ribs, Greek Chicken, Skirt Steak, Salads, Burgers and more. Staff is friendly and attentive while portions are very generous.
3301 Main St, Skokie, IL 60076 • (847) 677-7911 (Two locations including Skokie and Buffalo Grove).
Visit Dengeos website...
Johnny's Beef & Gyros (Chicago)
Serving the Lincoln Park area since 2005, Johnny's serves world class Chicago street food including their popular gyros, black angus chuck burgers, Italian beef, specialty salads and more. Other popular items include charbroiled chicken sandwiches, Maxwell street polish, homemade tzatziki spread and other Greek specialties. Two locations to serve you (Chicago and Joliet)
2300 N Lincoln Ave, Chicago, IL 60614 • (773) 697-8885
Visit the Johnny's Beef & Gyros website...
Paps Ultimate Bar & Grill (Mount Prospect)
This friendly bar and grill has been serving the Mount Prospect area for over 21 years with their famous gyros, pizza, black angus burgers, wings and other favorites. Great drink specials, plenty of tv screens for sports fans and fun activities in the spacious bar area.
1904 S. Elmhurst Road • Mt. Prospect, IL 60056 • (847) 806-7733
Visit Paps Bar & Grill website...
Zeus Restaurant (Chicago)
Unassuming and casual hangout known for their huge portions and clean environment. Enjoy their famous Gyros Sandwich/Plate, Gyros Cheeseburger, Italian Beef, Kabobs. Greek Chicken and more.
806 Jackson Blvd, Chicago, IL 60607 • (312) 258-8789
Visit Zeus Gyros website...
Charcoal Delights (Chicago)
This bright and welcoming eatery uses an old-fashioned cooking process, "charcoal barbecued broiled," to serve delicious burgers, Vienna hot dogs, country broasted chicken, beef sandwiches, bbq ribs and their famous gyros. Friendly staff with top notch service.
3139 W. Foster Ave, Chicago, IL 60625 • (773) 583-0056
Visit Charcoal Delights website...
Nick's Drive In (Chicago)
It's all about the homemade gyros at this casual old-fashioned diner celebrating 50 years on the northwest side. Also known for their burgers, hot dogs, Greek chicken, Italian Beef and more. Check the daily specials board and try their famous rice pudding!
7216 Harlem Ave, Chicago, IL 60631 • (773) 631-5045
Mr. Greek Gyros (Chicago)
Long time Chicago favorite serving their famous Gyros Pita, Gyros Dinner Plate, Gyros Philly plus homemade beef, burgers, kabobs, hot dogs and more. Open 'til 4am for your late night cravings. You'll love their thick-cut fries.
234 S Halsted St, Chicago, IL 60607 • (312) 906-8731
Visit Mr. Greek Gyros website...
Greek Islands (Chicago)
A classic restaurant destination for 48 years, they serve homemade gyros and traditional Greek specialties. Known for their quality and consistency, the popular restaurant serves Pastichio, Dolmades, Roasted Lamb, Moussaka, desserts and more.
200 S Halsted St, Chicago, IL 60661 • (312) 782-9855
Visit Greek Islands website...
Athenian Room (Chicago)
Charming and cozy neighborhood restaurant serving delicious gyros, Greek feta burger, chicken kalamata, kabobs, spinach pie and more. The dining room is reminiscent of a small taverna in Greece.
807 W Webster Ave, Chicago, IL 60614 • (773) 348-5155
Twins Gyros (Harwood Heights)
Known for their famous gyros and juicy chicken, this family owned restaurant makes their own tzatziki sauce and serves a very extensive menu. Popular items include their homemade soups, Italian beef, hot dogs, burgers and wings. The Greek fries are highly recommended!
4870 N Harlem Ave, Harwood Heights, IL 60656 • (708) 867-1313
Visit Twins Gyros website...
Billy Boy's (Chicago Ridge)
Popular eatery on the south side known for flavorful gyros, outstanding bbq ribs, burgers, Greek Chicken, hot dogs and unique sandwiches. Hard working crew keeps this place clean and running smooth.
6400 95th St, Chicago Ridge, IL 60415 • (708) 599-8406
Visit Billy Boy's website...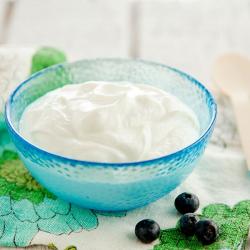 The health benefits of yogurt have always been touted by health-conscious Americans. But these days, even those who once resisted yogurt are now embracing the Greek way. Few foods today pack as healthy a punch in such small serving sizes as Greek yogurt. The nutrients of Greek yogurt can help keep you fortified while also helping you lose weight. The richer texture of greek yogurt is also a big sell for lovers of the grecian brand.
Greek yogurt is made by separating out the liquid whey, explains Alissa Rumsey, a registered dietitian and spokesperson for the Academy of Nutrition and Dietetics. "This results in a thicker texture with fewer carbohydrates and sugar, and more protein than regular yogurt," she says.
The Power of Protein
Protein is essential for good health. It is vital to cell growth, building muscle, and repairing tissue. As you age, you need more protein to keep your skin healthy and to fight off illness. Greek yogurt is a great way to boost your protein levels while avoiding heavy foods like meats. "Have it for breakfast and add in a handful of walnuts and blueberries," Rumsey says. "Use it as a substitute for sour cream on top of chili or baked potatoes."
Probiotics Help with Digestion
Greek yogurt is packed with probiotics. These are microorganisms such as bacteria and yeast. These normally live in your intestines, and having good microorganisms in your intestines helps keep you healthy, says Shane Griffin, a certified nutritional practitioner and founder of Whole Life Balance. "Without a healthy balance of good bacteria from probiotics, too much bad bacteria can build up and cause damage to our immune systems," Griffin says.
Probiotics are great for the digestive system, and especially helpful to people who suffer from conditions such as irritable bowel syndrome, he adds.
Good source for workout recovery
Greek yogurt can be a healthy and satisfying treat after a tough workout. Not only will it tide you over until your next meal, but it actually contains protein that can repair damage done by exercise.
"Greek yogurt is rich in the amino acids which make up proteins, and proteins are the building blocks for regenerating muscle tissue and repairing fiber damage," explains Griffin. Add a banana or some berries for a nutrition-packed post workout snack.
Quality Greek Yogurt In Chicago
Find homemade and other brands of quality Greek yogurt at these fine establishments throughout Chicagoland. Our favorite grocers offer homemade "Ya-Ourti" at Columbus Food Market in Des Plaines and Spartan Brothers (Touhy & Harlem) in Chicago. Other recommended sources include 95th Produce Market (Hickory Hills), Nature's Best (Westmont), Fiesta Market (Mount Prospect) and Village Market Place (Skokie).
You can also enjoy homemade Greek yogurt at some of our favorite restaurants including Plateia Mediterranean Kitchen (Des Plaines), Kefi Greek Cuisine (Palos Heights), Billy's Pancake House (Palatine), Mykonos Greek Restaurant (Niles) and Briki Cafe (Addison).
Read more about Greek yogurt: