Chicago Fun With a Greek Touch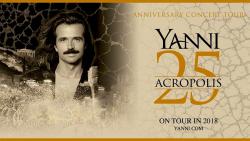 January 2018
As one of the world's leading musical composers, for Yanni, it's always been about the passion. His name has become synonymous with beautifully prepared orchestral music tinged with jazz, classical, and rock influences. His live performances are legendary and feature an impressive array of world class musicians and vocalists. Fans have even declared that Yanni's music goes well beyond entertainment, effecting them at a deep spiritual level.
Yanni began playing the piano at age six in his hometown of Kalamata, Greece. His parents took notice of his enthusiasm for the keyboards and encouraged him to develop his own style at his own pace. Yanni would actually teach himself "musical shorthand," bypassing at a young age conventional musical rotation methods. Even today, Yanni continues to utilize his own personal technique.
Before music became Yanni's primary vision, he won a 50-meter swimming competition at age 14 and considered becoming an Olympic swimmer. He would move to the United States a few years later, settling in Minneapolis where he attended the University of Minnesota as a psychology major.
As Yanni pursued his studies, he would earn money as a dishwasher eventually earning a B.A degree in Psychology. After graduating, Yanni decided to commit the next year of his life exclusively to music. It was during this time that Yanni was his happiest and decided to devote the rest of his life to his childhood passion.
In 1976, Yanni joined the Minneapolis based rock group Chameleon while also working with choreographer Loyce Houlton on creating music for dance works that would be produced by the Minnesota Dance Theater. After 4 years of touring with Chameleon, he moved to California to pursue his gaining interest of composing movie soundtracks.
Yanni would release several albums in the 80's touring with such well known musicians as John Tesh and drummer Charlie Adams. One tour included an amazing performance with the Dallas Symphony Orchestra that was described by a local music critic as "exhilirating, moving and inspiring." The review acknowledged Yanni as a bona fide superstar and helped Yanni gain national recognition.
A few years later, Yanni released "Dare to Dream," his first grammy nominated album that included "Aria," a song that was featured prominently in a British Airways commercial. His next album, "In My Time," followed one year later and was also nominated for a grammy.
But Yanni's landmark achievement occured in 1993 when he performed live at the 2,ooo year old Herodes Atticus Theater at the Acropolis of Athens. So ambitious in scale, it was a concert event his own record company advised against and predicted would fail. So without any financial backing, Yanni would risk $2 million of his own money to make "Live At The Acropolis" a reality. The concert featured Yanni's core band and the 60-piece Royal Philharmonic Orchestra arranged and conducted by the renowned Shahrdad Rohani. The resulting video would become the second best selling music concert video of all time (after Michael Jackson's "Thriller").
Yanni has often said that psychology is actually the catalyst of all his songwriting. The music he creates is a reflection of his soul and a direct result of life experiences, relationships and interactions with other cultures. They are present in almost every creative thought he has and they continue to inspire and entertain everyone who attends a Yanni show.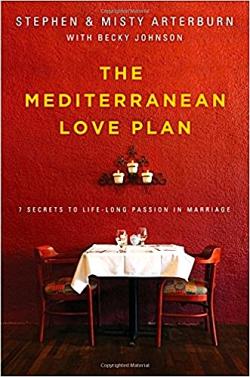 What's the secret of a long, happy marriage? How can couples keep the passion and romance alive for the long haul?
The Mediterranean Love Plan shares the seven secrets of passion from some of the most romantic countries in the world: France, Italy, Greece, Spain and Israel while helping couples enjoy everything their marriage was designed to be.
Authors Stephen and Misty Arterburn provide plenty of research, fascinating stories and personal examples that will help motivate couples to achieve a "grande amour" (great love) in their marriage.
Among the concepts addressed are "triggers to ecstatic experiences" that include the enjoyment of good food, laughter, art, music, nature and rhythmic movement. As couples learn to actively incorporate these and other "triggers" mentioned in the book, intimate soul-satisfying connection can be enjoyed at deeper levels.
The Mediterranean Love Plan also encourages couples to be aware of the fragility of the marital bond. In the real world, even the strongest marriages can unfortunately go off the rails, sometimes rather quickly. Other couples find themselves settling into comfortable routines that end up resembling business relationships filled with a list of mundane projects that just need to get done.
In today's fast paced culture, achieving and sustaining the "fairy-tale" can seem impossible. Can two flawed people learn to keep the marriage flame burning hot in the face of work schedules, mortgage payments and everything associated with raising a well balanced family?
Stephen and Misty Arterburn would whole-heartedly answer, yes! If both parties are proactive about making desire a top priority in their relationship, each can certainly experience the fairy-tale marriage that so easily eludes many couples.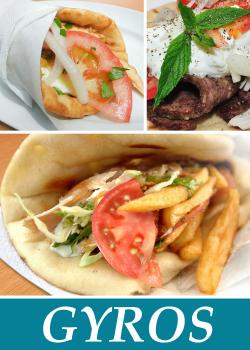 March 2017
Over the last few decades, Gyros has certainly gained a reputation as one of the more popular Greek food items on menus across Chicagoland.
Gyros are essentially sandwiches made with thinly-sliced beef, lamb or chicken which is then placed in a pita or flatbread. Most gyros are topped with onions and tomatoes and enjoyed with Tzatziki sauce, a white creamy topping made from strained yogurt, cucumbers, salt, pepper, garlic and dill.
With this flavorful mixture served relatively cheap, it's no wonder that Gyros has been a popular choice for hungry Chicagoans for over 50 years.
As the meaty dish is thought to have originated in Greece, the very first Gyros in America was actually served in the Chicagoland area. According to Elk Grove Village based Devanco Foods, the first gyros was reportedly served in 1965 at The Parkview Restaurant in Chicago by owner George Apostolou, also known as "Papa George," the father of today's gyros.
Also prominent in the early days of gyros was Chris Tomaras who opened Kronos Gyros in 1975 and is responsible for developing and marketing "Gyrokones," large uncooked masses of gyro meat. Tomaras also invented the Kronomatic vertical meat broiler which helped standardize mass gyro production thus allowing gyros to spread to restaurants across the country.
Today Kronos is the world's largest manufacturer of Gyros providing enough of the savory meat for 600,000 sandwiches per day.
The secret behind Kronos success? Tomaras told reporters in 2009 that it's all in the ingredients..."we use the best beef and lamb and then run the meat through a four-ton grinder where bread crumbs, oregano and special seasonings are added."
Incidentally, Gyros comes from the Greek word "Geero" which means "turn." And nothing seems to be turning consumer's heads - and taste buds - like those wonderful cones of
meat spinning every day in restaurants across America.
We now turn your attention to our favorite gyros spots across Chicagoland.
Backyard Grill (Chicago)
This hidden gem on Chicago's northwest side only uses fresh ingredients and family recipes dating back to 1975. Their famous homemade gyros is made from prime beef and lamb mixed with BYG's secret blend of all natural spices. The Chicken Gyros is also very popular along with hand packed fresh ground burgers, Italian beef, bbq ribs, skirt steak sandwich, Greek-style chicken and more!
6355 N. Pulaski • Chicago IL 60646 • (773) 478-8802
Visit the Backyard Grill website...
Craving Gyros (Lake Zurich)
This cozy little spot in downtown Lake Zurich will surprise you with their famous gyros, vienna hot dogs, italian beef, charcoal broiled angus burgers and more. Very friendly staff is known for their personalized service. Gyros is fresh and hot served with homemade tzatziki sauce! Dining area is clean and comfortable which also includes outdoor patio.
200 S Halsted St, Chicago, IL 60661 • (312) 782-9855
Zeus Restaurant (Chicago)
Unassuming and casual hangout known for their huge portions and clean environment. Enjoy their famous Gyros Sandwich/Plate, Gyros Cheeseburger, Italian Beef, Kabobs. Greek Chicken and more.
806 Jackson Blvd, Chicago, IL 60607 • (312) 258-8789
Visit Zeus Gyros website...
Charcoal Delights (Chicago)
This bright and welcoming eatery uses an old-fashioned cooking process, "charcoal barbecued broiled," to serve delicious burgers, Vienna hot dogs, country broasted chicken, beef sandwiches, bbq ribs and their famous gyros. Friendly staff with top notch service.
3139 W. Foster Ave, Chicago, IL 60625 • (773) 583-0056
Visit Charcoal Delights website...
Nick's Drive In (Chicago)
It's all about the homemade gyros at this casual old-fashioned diner celebrating 50 years on the northwest side. Also known for their burgers, hot dogs, Greek chicken, Italian Beef and more. Check the daily specials board and try their famous rice pudding!
7216 Harlem Ave, Chicago, IL 60631 • (773) 631-5045
Mr. Greek Gyros (Chicago)
Long time Chicago favorite serving their famous Gyros Pita, Gyros Dinner Plate, Gyros Philly plus homemade beef, burgers, kabobs, hot dogs and more. Open 'til 4am for your late night cravings. You'll love their thick-cut fries.
234 S Halsted St, Chicago, IL 60607 • (312) 906-8731
Visit Mr. Greek Gyros website...
Greek Islands (Chicago)
A classic restaurant destination for 48 years, they serve homemade gyros and traditional Greek specialties. Known for their quality and consistency, the popular restaurant serves Pastichio, Dolmades, Roasted Lamb, Moussaka, desserts and more.
200 S Halsted St, Chicago, IL 60661 • (312) 782-9855
Visit Greek Islands website...
Paps Ultimate Bar & Grill (Mount Prospect)
This friendly bar and grill has been serving the Mount Prospect area for over 21 years with their famous gyros, pizza, black angus burgers, wings and other favorites. Great drink specials, plenty of tv screens for sports fans and fun activities in the spacious bar area.
1904 S. Elmhurst Road • Mt. Prospect, IL 60056 • (847) 806-7733
Visit Paps Bar & Grill website...
Athenian Room (Chicago)
Charming and cozy neighborhood restaurant serving delicious gyros, Greek feta burger, chicken kalamata, kabobs, spinach pie and more. The dining room is reminiscent of a small taverna in Greece.
807 W Webster Ave, Chicago, IL 60614 • (773) 348-5155
Dengeos (Skokie)
Friendly and spacious eatery serving up their signature Gyros plus BBQ Ribs, Greek Chicken, Skirt Steak, Salads, Burgers and more. Staff is friendly and attentive while portions are very generous.
3301 Main St, Skokie, IL 60076 • (847) 677-7911
Visit Dengeos website...
Twins Gyros (Harwood Heights)
Known for their famous gyros and juicy chicken, this family owned restaurant makes their own tzatziki sauce and serves a very extensive menu. Popular items include their homemade soups, Italian beef, hot dogs, burgers and wings. The Greek fries are highly recommended!
4870 N Harlem Ave, Harwood Heights, IL 60656 • (708) 867-1313
Visit Twins Gyros website...
Billy Boy's (Chicago Ridge)
Popular eatery on the south side known for flavorful gyros, outstanding bbq ribs, burgers, Greek Chicken, hot dogs and unique sandwiches. Hard working crew keeps this place clean and running smooth.
6400 95th St, Chicago Ridge, IL 60415 • (708) 599-8406
Visit Billy Boy's website...