St. Nectarios Greek Fest Palatine - 2019
Location of event:
St. Nectarios Greek Orthodox Church, Palatine
Thousands of guests came out on the first official weekend of summer to enjoy great food, music, dancing, plaka shopping and fun for the kids at St. Nectarios Greek Orthodox Church annual festival in Palatine.
Happy participants feasted on authentic Greek food including pastichio, souvlaki, gyros, Greek-style chicken, spanakopita (spinach-pie), Greek sausage, saganaki and more. Desserts included sweet treats like baklava, ice cream, Greek frappe and loukoumades (deep-fried batter puffs drizzled with cinnamon and honey). Many visitors also enjoyed the convenience of the drive-thru.
Live entertainment provided by DejaVu (Fri night) and RYTHMOS (Sat & Sun night). Guests also enjoyed dance performances by the church's own Levedia Dance Group. St. Nectarios Greek Orthodox Church is proud to celebrate its 45th anniversary as a church community.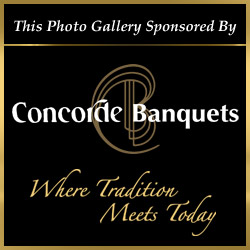 This event photo gallery is sponsored by Concorde Banquets — renowned for its beautifully private setting, elegant ballrooms and outstanding cuisine...hosting grand weddings and other special events for up to 800 people.