Chicago Region Thanksgiving Dining
Thursday, November 23, 2017
To cook or not to cook? This Thanksgiving, our favorite restaurants around Chicagoland want to take away the stress involved with cooking that big meal; they're serving traditional Thanksgiving items along with their regular menus. So come out and enjoy delicious Thanksgiving dining with family and friends. No worries about preparation or clean up — these great restaurants will do all the work.
Prefer to enjoy the holiday at home? Take it with you! Thanksgiving catering packages are also available that can feed up to 16 people (packages may vary).
Reservations may be required
Be sure to check the restaurant or banquet facility website or call them directly to confirm reservation policies, some sell out fairly quickly. For catered meals and fresh desserts, you'll typically need to place your order well in advance.
Popular establishments open for Thanksgiving Day dining in the Chicago region: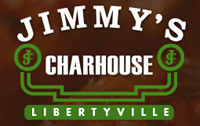 Jimmy's Charhouse in Libertyville will be serving their famous turkey plate with all the trimmings for $18.95 plus the regular menu in the dining room, while also offering a carry-out package that serves 12-16 people (see Catered Thanksgiving Dinners, below). Among Chicago's favorite northern suburban restaurants, Jimmy's will be open 11am - 8pm on Thanksgiving Day. To learn more, visit the Jimmy's Charhouse Libertyville website or call them at (847) 549-9900.

D'Andrea Banquets in Crystal Lake will again be hosting its very popular Thanksgiving Buffet Feast 11am - 4pm offering traditional favorites like roast turkey and baked ham plus roast sirloin of beef, BBQ ribs, roasted chicken, baked cod, baked mostaccioli, and fettuccini alfredo. All accompanied by mashed potatoes, dressing, glazed sweet potatoes, cranberry relish, soup, assorted veggies, and desserts. D'Andrea Banquets manager Pete Spentzos says Thanksgiving at the banquet hall has been a big hit with the community for 13 years..."It's been fun watching loyal customers over the years now bring their kids and their families to enjoy Thanksgiving at our venue...our staff even knows them by name." To learn more visit the D'Andrea Banquets Thanksgiving page or call (815) 459-7234.

Omega Pancake House in Downers Grove will be open 6am - 3pm serving both their regular menu and turkey dinner options. Don't forget to order one of Omega's award-winning holiday pies for take-out (at least 2 days in advance please), including Pumpkin Pie, Apple, Cherry, Lemon Meringue and other tantalizing options. Call them at (630) 963-0300 to learn more. Visit the website for Omega Restaurant in Downers Grove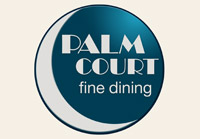 Palm Court Fine Dining in Arlington Heights will be serving an upscale Thanksgiving menu including roast turkey, prime rib of beef, steak & lobster, roast duckling, fresh macadamia crusted halibut and more. Open 11:30am-10pm, the legendary restaurant looks forward to providing everyone with a classic and subdued Thanksgiving experience. Owner John Sellis says, "The low key setting at Palm Court is a nice draw for folks during the holiday season because and we encourage people to enjoy themselves in our warm and cozy dining areas and lounge." To learn more about the holiday at Palm Court, call (847) 870-7770. Visit the Palm Court website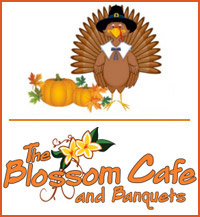 Blossom Cafe and Banquets in Norridge is open 6am - 8pm serving their traditional Thanksgiving feast with all the trimmings for $18.99, plus full regular menu in the dining room. Reservations are recommended for dine-in customers. Full Thanksgiving dinners to go are available too, (see Catered Thanksgiving Dinners, below); these serve 8 to 15 people. Visit the Blossom Cafe website or call them at 708-453-5300 for more information.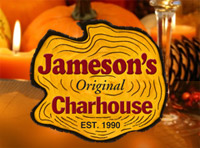 Jameson's Original Charhouse in Arlington Heights will be open from Noon - 10pm, serving a special Thanksgiving menu with roast turkey, ham off-the-bone, roast duck, steaks and chops, lobster and seafood, chicken, all your favorite trimmings, appetizers and salads, and our famous burgers and sandwiches. Awarded the best steak house in Arlington Heights, Jameson's will also offer a special wine list for the event. See Jameson's Thanksgiving page or call them at (847) 392-7100 to learn more.
Catered Thanksgiving Dinners in the Chicago Region: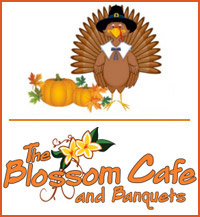 Blossom Cafe in Norridge will create Thanksgiving dinners to go, serving up to 15 people for $189.99. This hearty holiday meal includes a 22-lb. turkey, real mashed potatoes, walnut stuffing, gibet gravy, salad, vegetables, cranberry sauce and pumpkin pie, ready to take home and enjoy. See their Thanksgiving flyer (PDF), or visit the Blossom Cafe website for more information. To order your full catered dinner, please reserve by Monday, November 20th, by visiting the restaurant in person or calling 708-453-5300.

D'Andrea Banquets in Crystal Lake, in addition to being open for a buffet on Thanksgiving, will offer their full catered dinner package complete with turkey and all the trimmings (the package serves 10) for pickup between 11am and 4pm. Orders should be placed before Thanksgiving. Visit their Thanksgiving page (see Family Style To Go, lower half of the page) or call (815) 459-7234 for more information.