Chicago Fun With a Greek Touch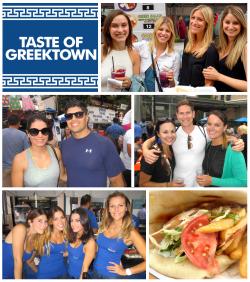 August 2017
Everybody was "Greek" for the weekend at the 28th annual Taste of Greektown Aug 25, 26 and 27 (2017).
Once again, Halsted Street was closed between Madison and Van Buren to allow for all the fun and festivities.
Thousands of happy visitors sampled food from Greektown's best restaurants while enjoying Greek music, dancing, games for the entire family and even a performance by the Jesse White Tumblers!
Popular food items included roasted lamb, gyros, pastitsio, dolmades, spanakopita (spinach pie), souvlaki, loukaniko (greek sausage), and more. Guests also enjoyed wonderful Greek pastries and desserts including loukoumades, baklava, kourambiedes and other treats.
Live entertainment was provided by Hellas 2000 (south stage), The Linardakis band (north stage) plus Greek dance performances by The Orpheus Dance Troop.
This year also featured the popular Gyros eating contest sponsored by Devanco Foods.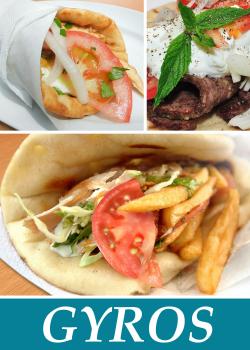 March 2017
Over the last few decades, Gyros has certainly gained a reputation as one of the more popular Greek food items on menus across Chicagoland.
Gyros are essentially sandwiches made with thinly-sliced beef, lamb or chicken which is then placed in a pita or flatbread. Most gyros are topped with onions and tomatoes and enjoyed with Tzatziki sauce, a white creamy topping made from strained yogurt, cucumbers, salt, pepper, garlic and dill.
With this flavorful mixture served relatively cheap, it's no wonder that Gyros has been a popular choice for hungry Chicagoans for over 50 years.
As the meaty dish is thought to have originated in Greece, the very first Gyros in America was actually served in the Chicagoland area. According to Elk Grove Village based Devanco Foods, the first gyros was reportedly served in 1965 at The Parkview Restaurant in Chicago by owner George Apostolou, also known as "Papa George," the father of today's gyros.
Also prominent in the early days of gyros was Chris Tomaras who opened Kronos Gyros in 1975 and is responsible for developing and marketing "Gyrokones," large uncooked masses of gyro meat. Tomaras also invented the Kronomatic vertical meat broiler which helped standardize mass gyro production thus allowing gyros to spread to restaurants across the country.
Today Kronos is the world's largest manufacturer of Gyros providing enough of the savory meat for 600,000 sandwiches per day.
The secret behind Kronos success? Tomaras told reporters in 2009 that it's all in the ingredients..."we use the best beef and lamb and then run the meat through a four-ton grinder where bread crumbs, oregano and special seasonings are added."
Incidentally, Gyros comes from the Greek word "Geero" which means "turn." And nothing seems to be turning consumer's heads - and taste buds - like those wonderful cones of
meat spinning every day in restaurants across America.
We now turn your attention to our favorite gyros spots across Chicagoland.
Backyard Grill (Chicago)
This hidden gem on Chicago's northwest side only uses fresh ingredients and family recipes dating back to 1975. Their famous homemade gyros is made from prime beef and lamb mixed with BYG's secret blend of all natural spices. The Chicken Gyros is also very popular along with hand packed fresh ground burgers, Italian beef, bbq ribs, skirt steak sandwich, Greek-style chicken and more!
6355 N. Pulaski • Chicago IL 60646 • (773) 478-8802
Visit the Backyard Grill website...
Craving Gyros (Lake Zurich)
This cozy little spot in downtown Lake Zurich will surprise you with their famous gyros, vienna hot dogs, italian beef, charcoal broiled angus burgers and more. Very friendly staff is known for their personalized service. Gyros is fresh and hot served with homemade tzatziki sauce! Dining area is clean and comfortable which also includes outdoor patio.
200 S Halsted St, Chicago, IL 60661 • (312) 782-9855
Zeus Restaurant (Chicago)
Unassuming and casual hangout known for their huge portions and clean environment. Enjoy their famous Gyros Sandwich/Plate, Gyros Cheeseburger, Italian Beef, Kabobs. Greek Chicken and more.
806 Jackson Blvd, Chicago, IL 60607 • (312) 258-8789
Visit Zeus Gyros website...
Charcoal Delights (Chicago)
This bright and welcoming eatery uses an old-fashioned cooking process, "charcoal barbecued broiled," to serve delicious burgers, Vienna hot dogs, country broasted chicken, beef sandwiches, bbq ribs and their famous gyros. Friendly staff with top notch service.
3139 W. Foster Ave, Chicago, IL 60625 • (773) 583-0056
Visit Charcoal Delights website...
Nick's Drive In (Chicago)
It's all about the homemade gyros at this casual old-fashioned diner celebrating 50 years on the northwest side. Also known for their burgers, hot dogs, Greek chicken, Italian Beef and more. Check the daily specials board and try their famous rice pudding!
7216 Harlem Ave, Chicago, IL 60631 • (773) 631-5045
Mr. Greek Gyros (Chicago)
Long time Chicago favorite serving their famous Gyros Pita, Gyros Dinner Plate, Gyros Philly plus homemade beef, burgers, kabobs, hot dogs and more. Open 'til 4am for your late night cravings. You'll love their thick-cut fries.
234 S Halsted St, Chicago, IL 60607 • (312) 906-8731
Visit Mr. Greek Gyros website...
Greek Islands (Chicago)
A classic restaurant destination for 48 years, they serve homemade gyros and traditional Greek specialties. Known for their quality and consistency, the popular restaurant serves Pastichio, Dolmades, Roasted Lamb, Moussaka, desserts and more.
200 S Halsted St, Chicago, IL 60661 • (312) 782-9855
Visit Greek Islands website...
Paps Ultimate Bar & Grill (Mount Prospect)
This friendly bar and grill has been serving the Mount Prospect area for over 21 years with their famous gyros, pizza, black angus burgers, wings and other favorites. Great drink specials, plenty of tv screens for sports fans and fun activities in the spacious bar area.
1904 S. Elmhurst Road • Mt. Prospect, IL 60056 • (847) 806-7733
Visit Paps Bar & Grill website...
Athenian Room (Chicago)
Charming and cozy neighborhood restaurant serving delicious gyros, Greek feta burger, chicken kalamata, kabobs, spinach pie and more. The dining room is reminiscent of a small taverna in Greece.
807 W Webster Ave, Chicago, IL 60614 • (773) 348-5155
Dengeos (Skokie)
Friendly and spacious eatery serving up their signature Gyros plus BBQ Ribs, Greek Chicken, Skirt Steak, Salads, Burgers and more. Staff is friendly and attentive while portions are very generous.
3301 Main St, Skokie, IL 60076 • (847) 677-7911
Visit Dengeos website...
Twins Gyros (Harwood Heights)
Known for their famous gyros and juicy chicken, this family owned restaurant makes their own tzatziki sauce and serves a very extensive menu. Popular items include their homemade soups, Italian beef, hot dogs, burgers and wings. The Greek fries are highly recommended!
4870 N Harlem Ave, Harwood Heights, IL 60656 • (708) 867-1313
Visit Twins Gyros website...
Billy Boy's (Chicago Ridge)
Popular eatery on the south side known for flavorful gyros, outstanding bbq ribs, burgers, Greek Chicken, hot dogs and unique sandwiches. Hard working crew keeps this place clean and running smooth.
6400 95th St, Chicago Ridge, IL 60415 • (708) 599-8406
Visit Billy Boy's website...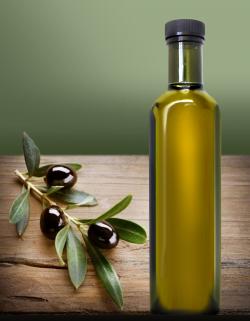 The much revered olive tree is believed to have originated in ancient Greece and Asia Minor (now Turkey). It was surely one of the earliest cultivated plants, with both its fruit and its oil being prized throughout the ancient Mediterranean. Olive cultivars used today all derive from these ancient trees.
First extracted over 8000 years ago, olive oil was an important ingredient when cooking and preparing food — much as it is today. It was also essential as a fuel for lamps, and for the preparation of soaps, ointments, liniments, and medicines.
Today, the health value of olive oil has been proven through a variety of published scientific studies. The primary fat found in all varieties of pure olive oil is monounsaturated fatty acids. They're considered healthy fats, the kind that you should consume every day — along with polyunsaturated fatty acids — in place of saturated and trans fats.
Olive oil and other unsaturated fats have been shown to reduce your risk of heart disease thanks to their tendency to lower your total cholesterol and low-density lipoprotein (LDL) cholesterol levels.
Unsaturated fats may also keep blood clotting in a normal range. And finally, they've been shown to benefit insulin levels and help control blood sugar, an important advantage for people with type 2 diabetes.
Olive oil is the key ingredient in the healthy "Mediterranean diet"
From the Mayo Clinic... "The Mediterranean diet emphasizes: Eating primarily plant-based foods, such as fruits and vegetables, whole grains, legumes and nuts. Replacing butter with healthy fats, such as olive oil. Using herbs and spices instead of salt to flavor foods. Limiting red meat to no more than a few times a month." Fatty fish are also an important part of this diet.
Researchers studying the effects of the Mediterranean diet have found lowering of heart disease and mortality. An interesting theory — not yet proven — suggests that this diet may also reduce the danger of skin cancer. Other forms of cancer may also be reduced.
Olive oil's part in providing these benefits has been well documented. One important study confirmed that consuming four or more tablespoons of olive oil a day can lower a person's risk of heart attack, stroke or death due to heart disease. It's important to mention that fatty fish and nuts may also provide similar advantages... something to appreciate the next time you enjoy a dinner of almond and olive oil crusted salmon!
Olive oil packs a number of other benefits. It is loaded with as many as thirty different polyphenols, antioxidants that help protect your cells from damage, with anti-inflamatory properties as well. And it supplies a bit of of natural vitamin E and beta-carotene to your diet.
Olive oil should be extra-virgin and fresh
"Virgin" means olive oil that is extracted with physical processes, such as crushing and squeezing, and not with chemistry or other forms of processing. Authentic 100 percent extra-virgin olive oil should be pure, without other oils added in to diminish the taste, quality, and benefits of the real thing. And it needs to be fresh. Olive oil has a short shelf life compared to other oils. It may last up to a year at best, even unopened. Ideally, the bottle that olive oil comes in should be dark to prevent light damage. Light, as well as excessive heat, can create oxidation and break down all of the helpful compounds in the oil, and eventually spoil the quality and turn it rancid.
Unfortunately, more than half of the extra-virgin olive oil sold in the U.S. today is substandard. It's important to buy olive oil from reliable sources in order to enjoy the best flavor and great benefits of this wonderful product!
Read more about Olive Oil: