Chicago Fun With a Greek Touch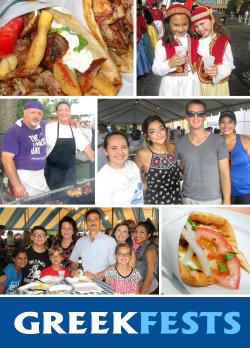 June 2017
Greek Fest season in Chicago is a great time of the year for fun seekers who want to get a taste of Greek food and culture.
Every weekend throughout the summer, Greek churches around Chicagoland host their own festivals inviting people to "go Greek" and enjoy great food, drinks, live music, dancing and fun for the kids.
Sharing meals around a table is a huge part of the Greek lifestyle and Greek Fests are no exception. Every year, thousands gather at their favorite festivals to indulge in all their favorite dishes including souvlaki, gyros, pastichio, chicken, dolmades, Greek salad and more (menus may vary).
Guests also like to mingle around the bar for beer, wine, soft drinks and friendly socializing. And of course, what would Greek Fest be without dessert stations featuring sweet treats like Baklava, Kourambiedes, Greek Frappe and of course everyone's favorite, Loukoumades!
Greek Fests are made possible by the hundreds of faithful volunteers who donate their time and energy to provide a good experience for all who visit. Thanks to their efforts, guests can enjoy everything Greek Fests have to offer - and a chance to make some great summertime memories!
What people usually remember the most about Greek Fests is the warm hospitality and something the Greeks call "filotimo." Mike Sakelaris, chairman of the St. Nectarios Greek Fest in Palatine says, "Filotimo is a Greek term describing love and honor, and it's our goal as a staff to serve every guest with that kind of spirit. We hope every person who visits any Greek Fest around Chicagoland will enjoy themselves and feel right at home."
So take the time this summer to slow down and smell the souvlaki! Enjoy Greek Fests with family and friends all summer long...and make sure to leave room for the loukoumades...OPA!
March 2017
The year was 1977... Star Wars and Saturday Night Fever were huge box office hits while Fleetwood Mac released their famous "Rumours" album and Styx was singing "Come Sail Away."
It was also the year Fountain Blue opened in Des Plaines. Located just north of O'Hare on Mannheim Road, Fountain Blue was originally a restaurant and lounge that also hosted private parties for up to 400 people. After almost two decades of success, the Fountain Blue was acquired by the Diamond family in 1995, converting the facility to all banquets.
"From day one, it was our strong desire to provide people a banquet experience that would lift up and complement every wedding and special event celebrated here," said Tom Diamond, owner and visionary behind the renowned banquet hall.
Mr. Diamond added, "It's been very gratifying to develop relationships with great customers over the years. It's satisfying to know we played a key role in helping so many people create great memories here."
Over the years, Fountain Blue has also hosted a wide array of interesting events which included President Ronald Reagan, Gary Fencik, Tom Skilling and the late Mayor Richard M. Daley. Every year, Fountain Blue is also proud to host the Ahepa Annual Sports Award Dinner that features top athletes from around the world.
Today, the Fountain Blue continues to expand on its stellar image as the area's favorite banquet destination hosting weddings and other special events for up to 400 people. Various magazines, including Chicago Style Wedding and The Knot have often recognized the facility for its beautifully elegant rooms and outstanding cuisine.
It's certainly no small feat that Fountain Blue is celebrating 40 years of unparalleled banquet excellence. Owner Connie Manios says, "We are so proud of our staff and their undying commitment to our customers...whether it's a friendly phone consultation, helping people tour our facility or meeting specific needs for a party, we are always thinking about exceeding people's expectations. We are especially pleased to have received so many notes from brides expressing their appreciation for the service and attention they enjoyed on their special day."
Connie added, "It really is a testament to the clear vision that pioneered our humble beginnings so many years ago."
Fountain Blue can accommodate any special event from 50 to 400 people including weddings, showers, baptisms, luncheons, corporate events and other gatherings. The entire staff looks forward to serving you today with the kind of excellence that is synonymous with Fountain Blue.
"After over two decades in the banquet industry, we like to think we know a little bit about our business," Tom smiled.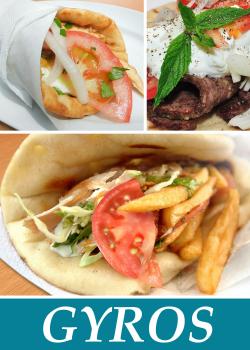 March 2017
Over the last few decades, Gyros has certainly gained a reputation as one of the more popular Greek food items on menus across Chicagoland.
Gyros are essentially sandwiches made with thinly-sliced beef, lamb or chicken which is then placed in a pita or flatbread. Most gyros are topped with onions and tomatoes and enjoyed with Tzatziki sauce, a white creamy topping made from strained yogurt, cucumbers, salt, pepper, garlic and dill.
With this flavorful mixture served relatively cheap, it's no wonder that Gyros has been a popular choice for hungry Chicagoans for over 50 years.
As the meaty dish is thought to have originated in Greece, the very first Gyros in America was actually served in the Chicagoland area. According to Elk Grove Village based Devanco Foods, the first gyros was reportedly served in 1965 at The Parkview Restaurant in Chicago by owner George Apostolou, also known as "Papa George," the father of today's gyros.
Also prominent in the early days of gyros was Chris Tomaras who opened Kronos Gyros in 1975 and is responsible for developing and marketing "Gyrokones," large uncooked masses of gyro meat. Tomaras also invented the Kronomatic vertical meat broiler which helped standardize mass gyro production thus allowing gyros to spread to restaurants across the country.
Today Kronos is the world's largest manufacturer of Gyros providing enough of the savory meat for 600,000 sandwiches per day.
The secret behind Kronos success? Tomaras told reporters in 2009 that it's all in the ingredients..."we use the best beef and lamb and then run the meat through a four-ton grinder where bread crumbs, oregano and special seasonings are added."
Incidentally, Gyros comes from the Greek word "Geero" which means "turn." And nothing seems to be turning consumer's heads - and taste buds - like those wonderful cones of
meat spinning every day in restaurants across America.
We now turn your attention to our favorite gyros spots across Chicagoland.
Backyard Grill (Chicago)
This hidden gem on Chicago's northwest side only uses fresh ingredients and family recipes dating back to 1975. Their famous homemade gyros is made from prime beef and lamb mixed with BYG's secret blend of all natural spices. The Chicken Gyros is also very popular along with hand packed fresh ground burgers, Italian beef, bbq ribs, skirt steak sandwich, Greek-style chicken and more!
6355 N. Pulaski • Chicago IL 60646 • (773) 478-8802
Visit the Backyard Grill website...
Zeus Restaurant (Chicago)
Unassuming and casual hangout known for their huge portions and clean environment. Enjoy their famous Gyros Sandwich/Plate, Gyros Cheeseburger, Italian Beef, Kabobs. Greek Chicken and more.
806 Jackson Blvd, Chicago, IL 60607 • (312) 258-8789
Visit Zeus Gyros website...
Charcoal Delights (Chicago)
This bright and welcoming eatery uses an old-fashioned cooking process, "charcoal barbecued broiled," to serve delicious burgers, Vienna hot dogs, country broasted chicken, beef sandwiches, bbq ribs and their famous gyros. Friendly staff with top notch service.
3139 W. Foster Ave, Chicago, IL 60625 • (773) 583-0056
Visit Charcoal Delights website...
Nick's Drive In (Chicago)
It's all about the homemade gyros at this casual old-fashioned diner celebrating 50 years on the northwest side. Also known for their burgers, hot dogs, Greek chicken, Italian Beef and more. Check the daily specials board and try their famous rice pudding!
7216 Harlem Ave, Chicago, IL 60631 • (773) 631-5045
Mr. Greek Gyros (Chicago)
Long time Chicago favorite serving their famous Gyros Pita, Gyros Dinner Plate, Gyros Philly plus homemade beef, burgers, kabobs, hot dogs and more. Open 'til 4am for your late night cravings. You'll love their thick-cut fries.
234 S Halsted St, Chicago, IL 60607 • (312) 906-8731
Visit Mr. Greek Gyros website...
Greek Islands (Chicago)
A classic restaurant destination for 48 years, they serve homemade gyros and traditional Greek specialties. Known for their quality and consistency, the popular restaurant serves Pastichio, Dolmades, Roasted Lamb, Moussaka, desserts and more.
200 S Halsted St, Chicago, IL 60661 • (312) 782-9855
Visit Greek Islands website...
Craving Gyros (Lake Zurich)
This cozy little spot in downtown Lake Zurich will surprise you with their famous gyros, vienna hot dogs, italian beef, charcoal broiled angus burgers and more. Very friendly staff is known for their personalized service. Gyros is fresh and hot served with homemade tzatziki sauce! Dining area is clean and comfortable which also includes outdoor patio.
200 S Halsted St, Chicago, IL 60661 • (312) 782-9855
Athenian Room (Chicago)
Charming and cozy neighborhood restaurant serving delicious gyros, Greek feta burger, chicken kalamata, kabobs, spinach pie and more. The dining room is reminiscent of a small taverna in Greece.
807 W Webster Ave, Chicago, IL 60614 • (773) 348-5155
Dengeos (Skokie)
Friendly and spacious eatery serving up their signature Gyros plus BBQ Ribs, Greek Chicken, Skirt Steak, Salads, Burgers and more. Staff is friendly and attentive while portions are very generous.
3301 Main St, Skokie, IL 60076 • (847) 677-7911
Visit Dengeos website...
Twins Gyros (Harwood Heights)
Known for their famous gyros and juicy chicken, this family owned restaurant makes their own tzatziki sauce and serves a very extensive menu. Popular items include their homemade soups, Italian beef, hot dogs, burgers and wings. The Greek fries are highly recommended!
4870 N Harlem Ave, Harwood Heights, IL 60656 • (708) 867-1313
Visit Twins Gyros website...
Billy Boy's (Chicago Ridge)
Popular eatery on the south side known for flavorful gyros, outstanding bbq ribs, burgers, Greek Chicken, hot dogs and unique sandwiches. Hard working crew keeps this place clean and running smooth.
6400 95th St, Chicago Ridge, IL 60415 • (708) 599-8406
Visit Billy Boy's website...