Chicago Fun With a Greek Touch
March 2017
The year was 1977... Star Wars and Saturday Night Fever were huge box office hits while Fleetwood Mac released their famous "Rumours" album and Styx was singing "Come Sail Away."
It was also the year Fountain Blue opened in Des Plaines. Located just north of O'Hare on Mannheim Road, Fountain Blue was originally a restaurant and lounge that also hosted private parties for up to 400 people. After almost two decades of success, the Fountain Blue was acquired by the Diamond family in 1995, converting the facility to all banquets.
"From day one, it was our strong desire to provide people a banquet experience that would lift up and complement every wedding and special event celebrated here," said Tom Diamond, owner and visionary behind the renowned banquet hall.
Mr. Diamond added, "It's been very gratifying to develop relationships with great customers over the years. It's satisfying to know we played a key role in helping so many people create great memories here."
Over the years, Fountain Blue has also hosted a wide array of interesting events which included President Ronald Reagan, Gary Fencik, Tom Skilling and the late Mayor Richard M. Daley. Every year, Fountain Blue is also proud to host the Ahepa Annual Sports Award Dinner that features top athletes from around the world.
Today, the Fountain Blue continues to expand on its stellar image as the area's favorite banquet destination hosting weddings and other special events for up to 400 people. Various magazines, including Chicago Style Wedding and The Knot have often recognized the facility for its beautifully elegant rooms and outstanding cuisine.
It's certainly no small feat that Fountain Blue is celebrating 40 years of unparalleled banquet excellence. Owner Connie Diamond says, "We are so proud of our staff and their undying commitment to our customers...whether it's a friendly phone consultation, helping people tour our facility or meeting specific needs for a party, we are always thinking about exceeding people's expectations. We are especially pleased to have received so many notes from brides expressing their appreciation for the service and attention they enjoyed on their special day."
Connie added, "It really is a testament to the clear vision that pioneered our humble beginnings so many years ago."
Fountain Blue can accommodate any special event from 50 to 400 people including weddings, showers, baptisms, luncheons, corporate events and other gatherings. The entire staff looks forward to serving you today with the kind of excellence that is synonymous with Fountain Blue.
"After over two decades in the banquet industry, we like to think we know a little bit about our business," Tom smiled.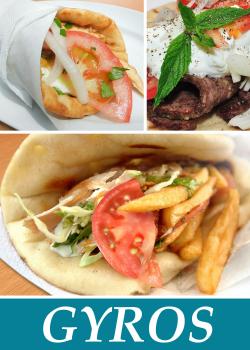 March 2017
Over the last few decades, Gyros has certainly gained a reputation as one of the more popular Greek food items on menus across Chicagoland.
Gyros are essentially sandwiches made with thinly-sliced beef, lamb or chicken which is then placed in a pita or flatbread. Most gyros are topped with onions and tomatoes and enjoyed with Tzatziki sauce, a white creamy topping made from strained yogurt, cucumbers, salt, pepper, garlic and dill.
With this flavorful mixture served relatively cheap, it's no wonder that Gyros has been a popular choice for hungry Chicagoans for over 50 years.
As the meaty dish is thought to have originated in Greece, the very first Gyros in America was actually served in the Chicagoland area. According to Elk Grove Village based Devanco Foods, the first gyros was reportedly served in 1965 at The Parkview Restaurant in Chicago by owner George Apostolou, also known as "Papa George," the father of today's gyros.
Also prominent in the early days of gyros was Chris Tomaras who opened Kronos Gyros in 1975 and is responsible for developing and marketing "Gyrokones," large uncooked masses of gyro meat. Tomaras also invented the Kronomatic vertical meat broiler which helped standardize mass gyro production thus allowing gyros to spread to restaurants across the country.
Today Kronos is the world's largest manufacturer of Gyros providing enough of the savory meat for 600,000 sandwiches per day.
The secret behind Kronos success? Tomaras told reporters in 2009 that it's all in the ingredients..."we use the best beef and lamb and then run the meat through a four-ton grinder where bread crumbs, oregano and special seasonings are added."
Incidentally, Gyros comes from the Greek word "Geero" which means "turn." And nothing seems to be turning consumer's heads - and taste buds - like those wonderful cones of
meat spinning every day in restaurants across America.
We now turn your attention to our favorite 10 gyros spots across Chicagoland.
1. Mr. Greek Gyros (Chicago)
Long time Chicago favorite serving their famous Gyros Pita, Gyros Dinner Plate, Gyros Philly plus homemade beef, burgers, kabobs, hot dogs and more.
234 S Halsted St, Chicago, IL 60607 • (312) 906-8731
Visit Mr. Greek Gyros website...
2. Greek Islands (Chicago)
A classic restaurant destination for 48 years, they serve homemade gyros and traditional Greek specialties including Roast Leg of Lamb, Pastichio, Dolmades, Moussaka and more.
200 S Halsted St, Chicago, IL 60661 • (312) 782-9855
Visit Greek Islands website...
3. Zeus Restaurant (Chicago)
Unassuming and casual hangout serving their famous Gyros Sandwich/Plate, Gyros Cheeseburger, Italian Beef, Kabobs. Greek Chicken and more.
806 Jackson Blvd, Chicago, IL 60607 • (312) 258-8789
Visit Zeus Gyros website...
4. Central Gyros (Chicago)
Famous Greek restaurant and bar celebrating 38 years of serving excellent Gyros, Souvlaki, Athenian Chicken, Greek Sausage, Saganaki and more.
3127 N Central Ave, Chicago, IL 60634 • (773) 545-1276
Visit Central Gyros website...
5. Athenian Room (Chicago)
Charming and cozy neighborhood restaurant serving delicious gyros, Greek feta burger, chicken kalamata, kabobs, spinach pie and more.
807 W Webster Ave, Chicago, IL 60614 • (773) 348-5155
6. Dengeos (Skokie)
Friendly and spacious eatery serving up their signature Gyros plus BBQ Ribs, Greek Chicken, Skirt Steak, Salads, Burgers and more.
3301 Main St, Skokie, IL 60076 • (847) 677-7911
Visit Dengeos website...
7. The Works (Glenview)
Casual low-key food landmark known for their famous gyros, hot dogs, burgers, Greek chicken, shishkebob and more.
2676 W Golf Rd, Glenview, IL 60025 • (847) 724-0616
Visit The Works website...
8. Twins Gyros (Harwood Heights)
Known for their famous gyros and juicy chicken, this family owned restaurant makes their own tzatziki sauce and serves homemade soups, Greek chicken, hot dogs, wings and more.
4870 N Harlem Ave, Harwood Heights, IL 60656 • (708) 867-1313
Visit Twins Gyros website...
9. Nick's Drive In (Chicago)
It's all about the homemade gyros at this casual old-fashioned diner celebrating 50 years on the northwest side. Also known for their burgers, hot dogs, Greek chicken, Italian Beef and more.
7216 Harlem Ave, Chicago, IL 60631 • (773) 631-5045
10. Billy Boy's (Chicago Ridge)
Popular eatery on the south side known for flavorful gyros, outstanding bbq ribs plus burgers, Greek Chicken, unique sandwiches, hot dogs and more.
6400 95th St, Chicago Ridge, IL 60415 • (708) 599-8406
Visit Billy Boy's website...
For owner Telly Andrianopoulos, the philosophy behind Omega's success has always been very simple. "Absolutely, we're all about the basics at both Omega locations," Telly says, "We have always believed in using only fresh quality ingredients to serve our customers food that they would consistently enjoy, in Schaumburg and Downers Grove."
It's that consistency and dedication to their customers that separates Omega from corporate chain restaurants. "When people visit us, they're treated like family and it's been our privilege over the years to develop close relationships with so many of our guests."
For the Omega Restaurant in Schaumburg, it's that vision that has now sustained the pancake house since June of 1997. Telly added, "Come June 2017, we're very happy to be celebrating 20 years in Schaumburg and look forward to serving the community for many years to come. And to show our appreciation, we are planning a nice celebration for customers that will include a special menu and a few surprises."
The Schaumburg location has also undergone major renovations that were completed in the first week of September 2016. The interior was completely updated and now features a clean, contemporary style to perfectly enhance the Omega dining experience.
And while the Schaumburg location has now served the community for 2 decades, Telly is also pleased that the Omega in Downers Grove has quickly experienced similar success since the family took over that location 4 years ago. "We are more dedicated than ever to providing our customers with great food and service while also offering guests quality cakes, pies and pastries from our bakeries.
Both Omega Pancake House restaurants serve breakfast, lunch and dinner seven days a week. Homemade soups and delicious specials are also available every day along with sweet treats from their famous bakeries.