Chicago Fun With a Greek Touch
Everybody was "Greek" for the weekend at the 27th annual Taste of Greektown Aug 26, 27 and 28 (2016).
Once again, Halsted Street was closed between Madison and Van Buren to allow for all the fun and festivities.
Thousands of happy visitors sampled food from Greektown's best restaurants while enjoying Greek music, dancing, games for the entire family and even a performance by the Jesse White Tumblers!
Popular food items included roasted lamb, gyros, pastitsio, dolmades, spanakopita (spinach pie), souvlaki, loukaniko (greek sausage), and more. Guests also enjoyed wonderful Greek pastries and desserts including loukoumades, baklava, kourambiedes and other treats.
Live entertainment was provided by Hellas 2000 (south stage), The Linardakis band (north stage) plus Greek dance performances by The Orpheus Dance Troop.
This year also featured the first Gyros eating contest sponsored by Devanco Foods.
For owner Telly Andrianopoulos, the philosophy behind Omega's success has always been very simple. "Absolutely, we're all about the basics at both Omega locations," Telly says, "We have always believed in using only fresh quality ingredients to serve our customers food that they would consistently enjoy, in Schaumburg and Downers Grove."
It's that consistency and dedication to their customers that separates Omega from corporate chain restaurants. "When people visit us, they're treated like family and it's been our privilege over the years to develop close relationships with so many of our guests."
For the Omega Restaurant in Schaumburg, it's that vision that has now sustained the pancake house since February of 1997. Telly added, "Come February 2017, we're very happy to be celebrating 20 years in Schaumburg and look forward to serving the community for many years to come. And to show our appreciation, we are planning a nice celebration for customers that will include a special menu and a few surprises."
The Schaumburg location has also undergone major renovations that were completed in the first week of September 2016. The interior was completely updated and now features a clean, contemporary style to perfectly enhance the Omega dining experience.
And while the Schaumburg location has now served the community for 2 decades, Telly is also pleased that the Omega in Downers Grove has quickly experienced similar success since the family took over that location 4 years ago. "We are more dedicated than ever to providing our customers with great food and service while also offering guests quality cakes, pies and pastries from our bakeries.
Both Omega Pancake House restaurants serve breakfast, lunch and dinner seven days a week. Homemade soups and delicious specials are also available every day along with sweet treats from their famous bakeries.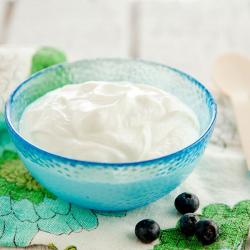 The health benefits of yogurt have always been touted by health-conscious Americans. But these days, even those who once resisted yogurt are now embracing the Greek way. Few foods today pack as healthy a punch in such small serving sizes as Greek yogurt. The nutrients of Greek yogurt can help keep you fortified while also helping you lose weight. The richer texture of greek yogurt is also a big sell for lovers of the grecian brand.
Greek yogurt is made by separating out the liquid whey, explains Alissa Rumsey, a registered dietitian and spokesperson for the Academy of Nutrition and Dietetics. "This results in a thicker texture with fewer carbohydrates and sugar, and more protein the regular yogurt," she says.
The Power of Protein
Protein is essential for good health. It is vital to cell growth, building muscle, and repairing tissue. As you age, you need more protein to keep your skin healthy and to fight off illness. Greek yogurt is a great way to boost your protein levels while avoiding heavy foods like meats. "Have it for breakfast and add in a handful of walnuts and blueberries," Rumsey says. "Use it as a substitute for sour cream on top of chili or baked potatoes."
Probiotics Help with Digestion
Greek yogurt is packed with probiotics. These are microorganisms such as bacteria and yeast. These normally live in your intestines, and having good microorganisms in your intestines helps keep you healthy, says Shane Griffin, a certified nutritional practitioner and founder of Whole Life Balance. "Without a healthy balance of good bacteria from probiotics, too much bad bacteria can build up and cause damage to our immune systems," Griffin says.
Probiotics are great for the digestive system, and especially helpful to people who suffer from conditions such as irritable bowel syndrome, he adds.
Good source for workout recovery
Greek yogurt can be a healthy and satisfying treat after a tough workout. Not only will it tide you over until your next meal, but it actually contains protein that can repair damage done by exercise.
"Greek yogurt is rich in the amino acids which make up proteins, and proteins are the building blocks for regenerating muscle tissue and repairing fiber damage," explains Griffin. Add a banana or some berries for a nutrition-packed post workout snack.
Read more about Greek yogurt: