Events
Everyone is invited to Chicago's Greektown area on Halsted Street to celebrate the annual Greek Heritage Parade.
The fun and spirited event commemorates the 199th anniversary of the Greek declaration of independence and is a true testament to the pride and love for country that is synonymous with the Greek people.
Chicago's Greek Independence Day parade remembers the time when...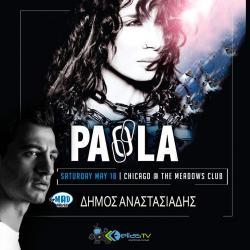 Paola is a dynamic Greek singer and songwriter bringing her talents to The Meadows Club in Rolling Meadows for an exciting live performance.
Her creative brand of modern pop have made her an exciting concert draw for over 15 years.
Born in Thessaloniki Greece, Paola began singing at the age of four and was performing in Greek nightclubs by the age of nineteen.
Joining...
Pages